Are you not able to create a stunning and captivating landing page for your Magento store without hiring a developer? In that case, the Magento page builder extension will be the perfect solution for you.
Choosing the right Magento page builder extensions can change the way you operate your online Magento store. In this blog, we have prepared a comprehensive list of the best page builder extensions by examining their features, pricing, compatibility, and pros & cons. But before directly going to the list, let's first understand the concept of Page Builder.
What is a Magento Page Builder?
A Magento page builder is a visual content creation tool by which you can develop exciting web pages without any extensive coding. The page builder comes with a drag-and-drop feature and has a very user-friendly interface. It also has various templates, pre-designed content blocks, and multiple customization options so you can easily create captivating & highly functional web pages. In e-commerce platforms like Magento, a page builder is a common tool often used by web designers, and content creators to create custom web pages, landing pages, product pages, and other types of content.
It also allows you to make changes in the layout, design, and content with a simple drag-and-drop feature. You can also preview the changes in the web pages before the final publish and can make the required adjustments.
However, the page builder should be reliable and compatible with your Magento store and ensure smooth integration with the best performance.  There are many open-source page builder extensions i.e. they are free of cost and the cost is available to access, modify, and use.
Key Features to look out for while Choosing a Magento Page Builder:
Before going through the list, let's also understand the key feature to consider when choosing a Magento Page Builder.
1. Drag-and-drop feature:
The drag-and-drop feature is a must in a Page Builder tool. It provides a visual interface to add and arrange content elements on a web page.
2. Template content blocks:
Template content blocks are pre-designed templates to help users create pages quickly.
3. Customization options:
Customization options like layout, design, styling, and content elements let the users create personalized web pages as per the store branding and theme.
Before the final publish, the users should be able to have a quick preview to make the required changes and adjustments.
The Magento page builder should allow to the creation of responsive web pages optimized for mobile devices, tablets, and other devices.
The chosen page builder should offer seamless integration with Magento and should be compatible with all higher versions of Magento.
After knowing the requirements of a perfect Magento Page Builder, let's delve into the Magento Page Builders which are standing on all these parameters.
Best Magento Page Builder Extensions for your Magento Store:
Here is the list of the best Magento Builder extensions:
     

Tapita

     

Landofcoder

     

Goomento

     

N1ED

     

Magesolution

     

Dragdropr

     

Media Lounge

     

Magezon

     

Amasty
We will discuss the details of all of these Page Builder extensions.
1. Tapita Magento 2 Page Builder:
The Magento 2 Page Builder by Tapita is highly versatile and has extensive drag-and-drop functionality with the live editor. It also provides a lot of page elements to make the web pages easier and more stunning.
More than 25-page elements with a drag-and-drop interface and live editor

40 pre-built templates aligned for various industries

Allows you to create pages for multiple purposes such as a homepage, landing page, and other content pages

Create endless page layouts optimized for different screen sizes

Customize the existing blocks using HTML5, CSS3, and JS and also save them for future purposes.

Comes with SEO features such as meta title, meta description, alt tag, XML sitemap, and even lazy loading

Give headless compatibility by integration with PWA Studio and ScandiPWA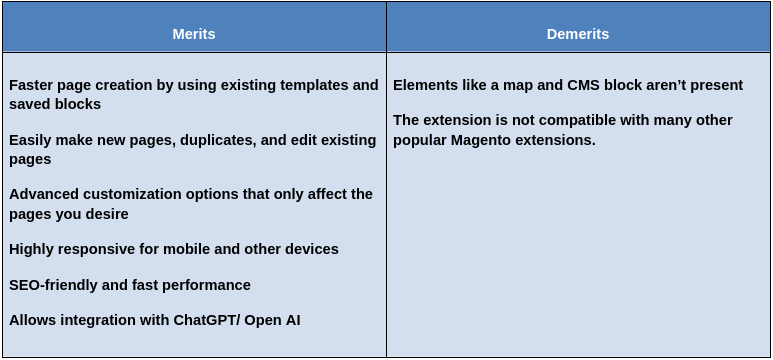 It offers 4 different plans:
Free edition

Starter edition costing $9 per month

Standard edition costs $29 per month

Professional edition costing $49 per month
2. Landofcoder Magento 2 Page Builder:
Landofcoder is a reputed Magento 2 extension provider and its Page Builder has multiple offerings including a huge range of customizable templates, an intuitive drag-and-drop interface, and content management capabilities.
More than 150 pre-built templates in the library

50+ widgets available for content building

Very less loading time

Highly compatible with other extensions

Live preview for even minor changes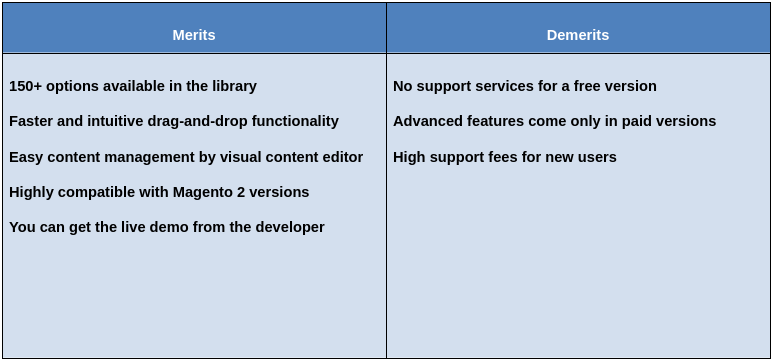 The extension is free of cost but there are 2 options for support service:
1-month support at $49

3-month support at $129
3. Goomento Magento 2 Page Builder:
A Magento 2 store owner can get highly benefitted from Goomento Magento 2 Page Builder. It comes with features like a visual editor allowing checking changes immediately on the storefront, pre-designed content blocks, and a drag-and-drop feature.
Highly responsive across desktop, laptop, and mobile devices

History and revision controls for backup pages and blocks creation

Export and import to other Magento sites

Faster changes to view with inline editing and live preview

Library of 15 elements and widgets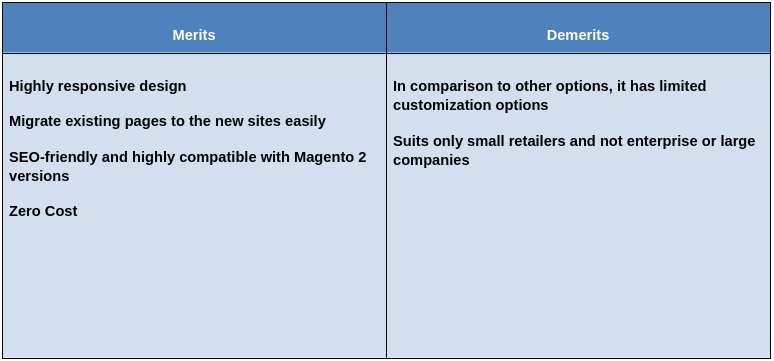 4. N1ED Magento 2 Page Builder:
N1ED company has a reputed N1ED plugins ecosystem for CKeditor and TinyMCE – a huge collection of plugins required to create captivating web pages.
These plugins come with a plethora of features by which you can create structured web pages and use Bootstrap styles for managing pictures, editing, and inserting into the pages. This extension is official N1ED integration into the CMS.
You get complete control over the grid through the Bootstrap editor. It allows you to create magazine-type pages on your site and manage rows with different types of columns.

There are HTML widgets to speed up your content generation

N1ED offers settings UI for quick customization of WYSIWYG – What you see is what you get – editor

Pre-designed blocks available for faster creation of pages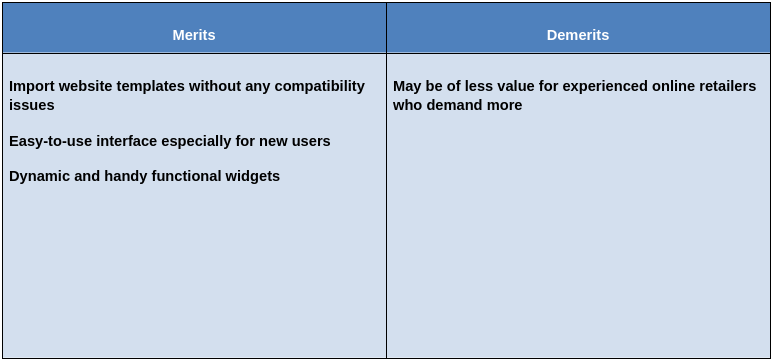 There are 3 available plans:
Free edition

Premium edition costing $14.9 per month

SaaS edition: Custom quote
5. Magesolution Magento 2 Page Builder:
Magesolution is a reputed name for providing Magento 2 solutions. Using its Page Builder, users can build attractive websites which will stand alone from the crowd.  You can easily create product and category descriptions through its visual interface and doesn't require coding knowledge. It also provides a real-time preview of the page appearances.
Allows you to create pages of any type including homepage, landing page, content page, and any other type.

Easy to create product descriptions, good readability content, and visually appealing designs at the front end.

Intuitive drag-and-drop interface with various elements

Offers import/export and restore features for layout

Highly compatible with various Magento themes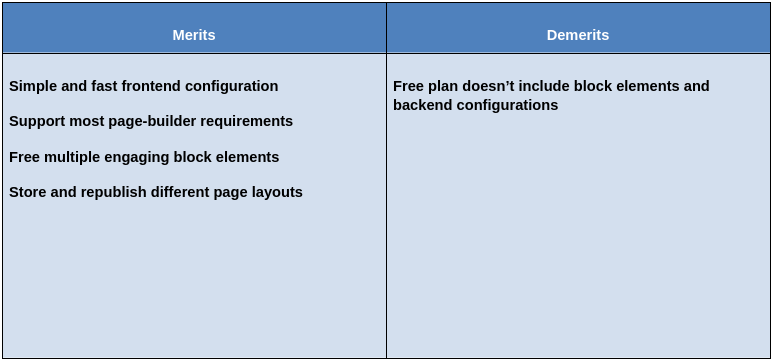 There are 3 components in the pricing: Magento edition, license, and support. Here is the cost for each component:
Magento edition: Free edition, Community edition costs $129, and Enterprise edition costs $499

Support edition: A support agreement of 3 months costs $150 and for 6 months, it costs $200

License option: Single license is free, a developer license costs $500 and normal support is free
6. Dragdropr Magento 2 Page Builder:
You don't need to be a coding expert to use the Dragdropr Magento 2 Page Builder. You just require to use a drag-and-drop interface for creating new web pages or changing the existing ones.
It's a cutting-edge SaaS product that connects with Magento to make generating and managing web content easier.
Check the changes in real-time using the WYSIWYG editor.

Developer highly responsive content that works on mobile and tablet devices

Comes with 200+ pre-designed and editable content blocks

Genuine HTML code aids in SEO

Create native Magento web pages, or product & blog pages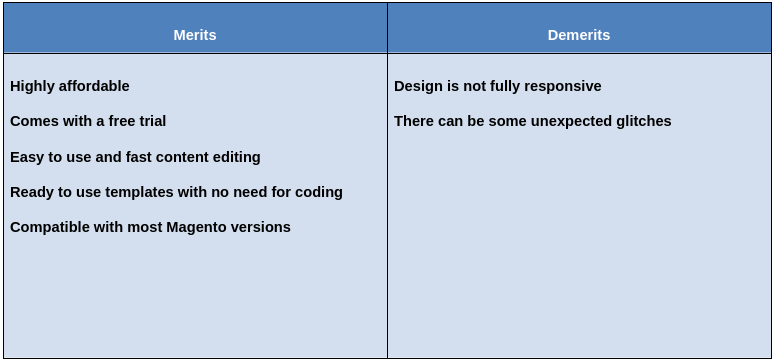 The single or individual account costs $14.90  per month

Agency accounts cost $118 per month

White-label accounts cost $198 per month
7. Media Lounge Storyblok Magento 2 Page Builder:
This Page Builder is mostly used by the enterprise-level businesses. It is a headless CMS with a visual editor that allows the editorial team to fine-tune their content and increase productivity with a smooth workflow.
The headless CMS converts the inflexible web templates into dynamic and flexible components which are merged further to build web pages.
The visual editor allows you to create content naturally with a collaboration suite, composable components, presets, and publishing procedures.

Optimize and organize the assets using Storyblok's digital asset management.

Omnichannel capabilities by delivering content on multiple channels

Headless architecture for fast performance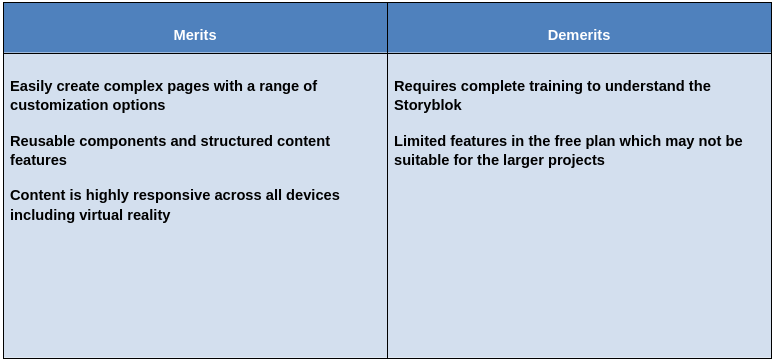 Free Community Edition

Entry edition: $100 per month

Teams edition: $455 per month

Enterprise edition: $3321 per month

Enterprise plus edition: Custom quote
8. Magezon Magento 2 Page Builder:
You can create attractive pages for any portion of your Magento 2 store using the Magezon Magento 2 Page Builder. The intuitive drag-and-drop interface allows you to create pages without any coding knowledge.
50+ elements for a rich layout

Responsive design

Multiple languages support

Ability to create custom widgets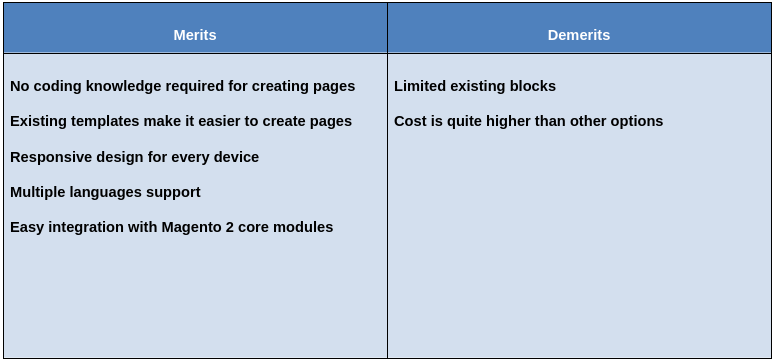 For the Magento edition: There is a free edition, a community edition at $129 per month, and an Enterprise edition at $200 per month.

For Support edition: The 3 months is free, while 6 months and 12 months plans cost $79 and $129 respectively.

For Additional Services (optional): The installation fee is $50 and the priority service fee is $99
9. Amasty Magento 2 Landing Pages Extension:
Using the Amasty Magento 2 Landing pages extension, you can enhance the shopping experience of your customers on your store by developing optimized landing pages.
With the help of this plugin, customers may create unique templates based on criteria like category, price, and SKU.  Your web presence will grow thanks to its SEO-friendly features, which will also improve organic traffic and boost revenue.
SEO optimized with metadata, URL-friendly and other features.

Create unlimited landing pages

Flexible product list conditions

Using CSV file, you can import and export the pages

Add custom CMS blocks

Open-source code and multi-store support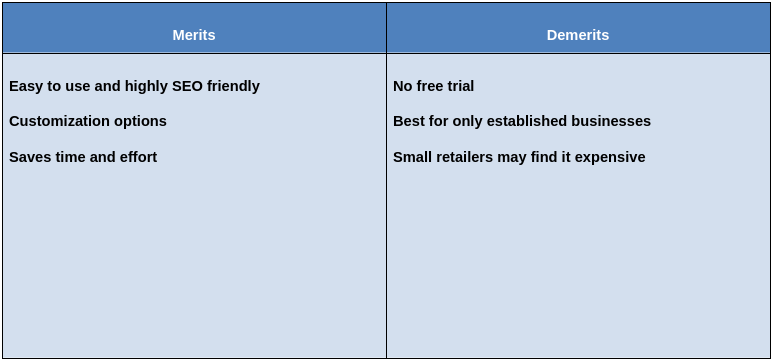 The community edition costs $149, the enterprise edition costs $449 and the Magento cloud edition costs $749.
In this article, we have gone through the Best Page Builder Extensions available for your Magento store in 2023. These page builders will help you to create pages or modify the existing ones without any expert developer help. At Ceymox Technologies, the best Magento development company in India, we are having expertise in developing Magento stores from scratch with advanced features & functionalities. Let us know your requirements.
About Author