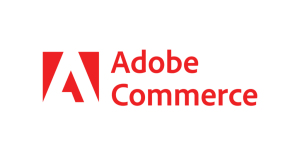 Adobe Commerce comes with many significant advantages that secure its lead over other platforms like native B2B functionality, customizations, and easy integrations with backend systems. It has a good range of features including Page Builder, B2B suite, Live Search, Product Recommendations, Visual Merchandiser and many more. Adobe Magento Commerce has been a favourite for B2B sellers – big or small. It is one of the most famous Content Management Systems.
Adobe Commerce Development
Hire Adobe Commerce Developers who are highly experienced in developing enterprise-level e-commerce stores. We offer trained and certified Adobe Commerce experts, dedicated Adobe commerce developers for your remote e-commerce development team. We give highly flexible hiring options. You can hire them on an hourly, part-time, or full-time contract basis. All Adobe Commerce developers are proficient in managing end-to-end Adobe Commerce development.
We will help you in exploring the in-depth potential of Adobe Commerce. Our strategists and consultants work closely with the clients to understand, analyse, evaluate, define the business requirements and develop the best-suited e-commerce solution. We don't just develop new e-commerce stores from scratch but also help existing online stores in improving their
performance, branding, and design to increase conversion rates, revenue, and ROI
We, at Ceymox Technologies, provide all different types of custom development whether it is on Adobe Commerce or any other e-commerce platform. Our developers can develop any custom feature or functionality for your e-commerce store with thorough testing.
Adobe Commerce Cloud offers an extensive set of UI features including page builders and many other features. We provide complete design and theme development services with mobile responsive themes, custom design, template design, speed-optimized themes and much more.
We are in partnership with the theme development companies contributing to their Theme marketplace.
As the world is going mobile and a huge portion of the target audience use their mobile devices to access e-commerce stores, we develop highly responsive mobile solutions so you don't miss any potential customers. We are experts in utilizing Magento mobile features. Barcode scanners, warehouse management, packing solutions, and anything connected to Magento stock, order, and customers.
Adobe Commerce Cloud is one of the best e-commerce platforms for headless development. In a headless approach, the frontend end layer gets decoupled from the backend. This decoupled architecture increases the scalability of e-commerce needs. We are having expertise in this architecture along with command over GraphQL/REST-based API backend & frontend powered by modern JS Framework ReactJS and VueJS.
For the best usability and fewer efforts to manage your online store, we can customize the Admin area as per your usability and best practice. Admin area configuration for custom internal
operations, pages customization, tools implementations, and users access restrictions.
Although Adobe Commerce offers a huge range of payment integrations by default but still if you require any custom payment method then we are ready to integrate that as well. We are experts in building payment integration from marketplaces to membership and recurring solutions. Fully
PCI-DSS solutions supported by Payment method development.
We provide migration services to online business owners who want to switch their e-commerce platform to Adobe Commerce. Whether it is Shopify, WooCommerce, BigCommerce, Shopware, or any other CMS, we provide a seamless migration from any e-commerce platform.
We can migrate products, customers, orders, and even the features as modules/customization.
Adobe Commerce is not limited to D2C or B2C e-commerce solutions but also come with many extensive B2B features as well. We have experience in implement B2B features such as
complete quote management, account management, Separate seller microsite, and much more.
Testimonials
We engaged Ceymox for increasing our Magento2 speed.. it is so much faster now, its saving our much time as compared to the previous version where I had to wait and wait. You and your team are awesome!!

Larry Paulson

Project Head
The flexibility & adaptability to give responses in a reflexive manner on all communication has been the biggest strength of team Ceymox. I recommend their service for all.

David John

CEO
They have been very hard-working and extremely good in time management. I am very happy with the team and the engagement.

Jenny Wineburg

CEO
We have worked with Ceymox on one of our US client engagements. We had received good support from Ceymox and we were happy with the deliverables which came with good quality and timely delivery. Thank you Ceymox Team! We look forward to working with you on more engagements.

Deepa Lekshmi

Partner
You guys did a tremendous job in revamping our website. It is not cluttered anymore, is pleasing to the eye and easy for anyone to use. Your support has always been professional & timely and helped us to get to where we need in quick time. We look forward to working with you again for future enhancements!

Midhun Prabha

CEO
The great thing is, whenever I send Ceymox some work to do, it doesn't matter how small the work is, they go ahead and schedule it get it done in a timely fashion and then report back to me once it is done. This is great because it doesn't tie us down to one of those annual or monthly maintenance contracts.
Ceymox only charge for the work that we have them do. Finally even though we're in the pacific time zone half a world away from where they're at in India. I can send them emails and I can have phone calls with them all during our work hours I've really enjoyed working with Ceymox. They are magento experts and they've helped us make some really important decisions with regards to our website. I look forward to a profitable partnership with them in the future.

Shan Hemphill

CEO
Let us do something amazing!