Overview: Ceymox helped OllZ in building their entire ecommerce store from scratch with several innovative features, including a built-my-PC module, pay later options, reward points, deals, gift cards, etc.
Ollz.com is a multi-brand online e-store owned by Fonz International that offers Electronics, Digital Cards, Gaming Products, Mobile Accessories, Entertainment, Smart Home, Lifestyle Products and services. Ceymox built their website from scratch.
OllZ team needed to develop an e-commerce store with multi language options and lots of products. They also needed custom and innovative features like pay later, multiple payment options, gift cards, reward points, deals, promotions etc. Another special & unique feature OllZ team needed was a build my pc page where the customers can customize their PC specs manually.
Dedicated Magento E-commerce Developers of Ceymox developed the entire e-commerce store from scratch as per the requirement of the client by enabling multi language. One of the most innovative features of Ollz.com is the built-my-PC module. This enables the customer to build their own custom pc. Customers decide what components they want — from the processor to the graphics card, memory, cabinet, cooler and all that jazz — and then get a breakdown of the total cost of the machine displayed right there on screen. The ease of use this provides customers in finding their ideal PC with the right price point is unmatched.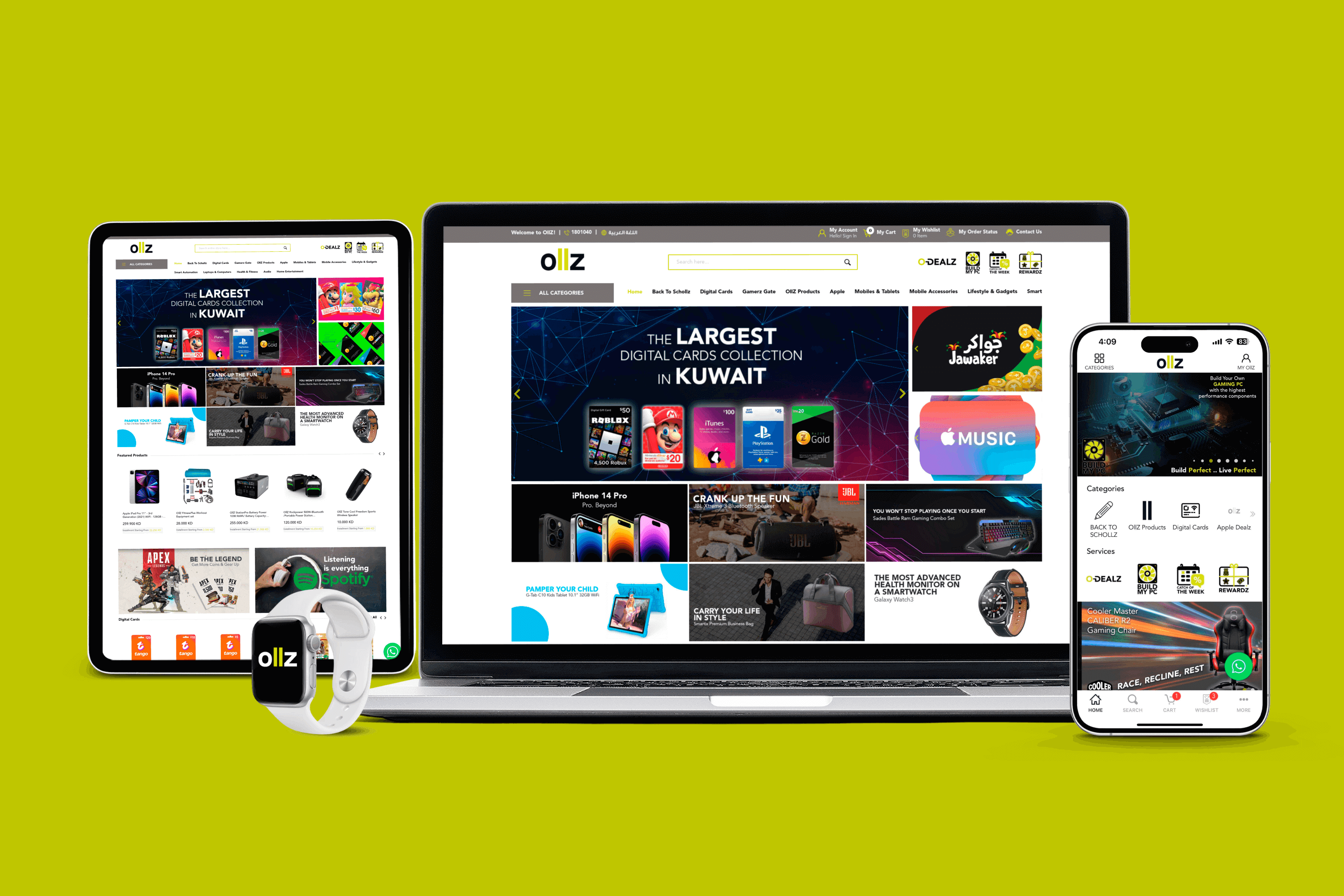 Our company Ceymox implemented a pay later functionality enabling customers to purchase items in installments. Another feature included in the installation was the reward points system. With this in place, customers can earn reward points for each buy that they make in the marketplace. These reward points can be collected later and can be used for buying new products/services. This increases repurchase, brand's credibility, too. Team of Ceymox helped OllZ to build a deals section where customers can find products with special offers. These products are displayed prominently on the website, and customers can avail the offer directly from the product page. Deals section is updated regularly, ensuring that the customers always have access to the latest offers.
We also integrated Flip Delivery, a courier mechanism, into the system. This feature allows customers to track their orders from the time they are shipped until they are delivered. The website also features a delivery boy mechanism, which enables the company to track the delivery of orders in real-time.For easy login, Ollz.com has installed social login options, allowing customers to use their social media accounts to log in to the website. The website also has SMS integration, which sends customers updates on their orders and notifications about new products and offers.
The client has made reports a priority, and the website features a report system that tracks any changes made to the website. This feature ensures that the company can monitor any updates and identify any issues that arise. Moreover, the site itself was reworked for enhanced speed/performance. The website is full of third-party extensions and custom modules, but it has been optimized to ensure that it runs smoothly. Our experts integrated two payment gateways into the system: CyberSource and Knet. CyberSource is a secured online payment gateway accepting all major credit cards. Knet is Kuwait's own local payment gateway allowing the customers to settle bills through direct debit of their Bank account.
Ollz.com is an excellent example of an easy-to-use e-commerce store with advanced capabilities specifically tailored towards enhancing customer engagement and loyalty. The strategic inclusion of the built-my-PC module, Pay Later options, Reward Points, Real Time Tracking and Optimised Performance places Ollz.com as an ideal one-stop, all encompassing online shopping destination in Kuwait.