In today's article, we are going to know about the current trends of headless PWA studio and what is to come in Magento latest version. So one of the foremost things we should know is that Magento 2 is changing, it is:
Improving

the developer experience

Adapting

for the mobile-first economy

Optimizing

for speed and need for change

Extending

for dynamic superior experiences

Empowering

merchants and business users
And change brings opportunities and change really is about perspective. The developer experience has been improved a lot, with the current pandemic merchants have realized the potential of mobile users, in addition to that we have to be more agile, we have to optimize for both speed and the need for change not just with the browsers but really as businesses. Beyond that expectations have raised, we have got to extend for dynamic shopping experiences and at the very end, we have to empower merchants and business users.
As a part of Adobe, we get a lot of great analytics and these analytics or findings are really no different. The smartphones or mobile experiences continue to be more than half of all the visits that we are seeing to date. One of the biggest opportunities though is only accounting for about 40% of all sales. Smartphones are on track to contribute more than 50% of the online spend by September 2022. This creates a big opportunity and it has a lot to do with the experiences they are created to date. In addition, $28 billion will be spent on smartphones this year. These are some pretty big figures and as an online merchant, you really need to think about what that experience looks like and how you get there.
Headless Commerce and how it works with Magento: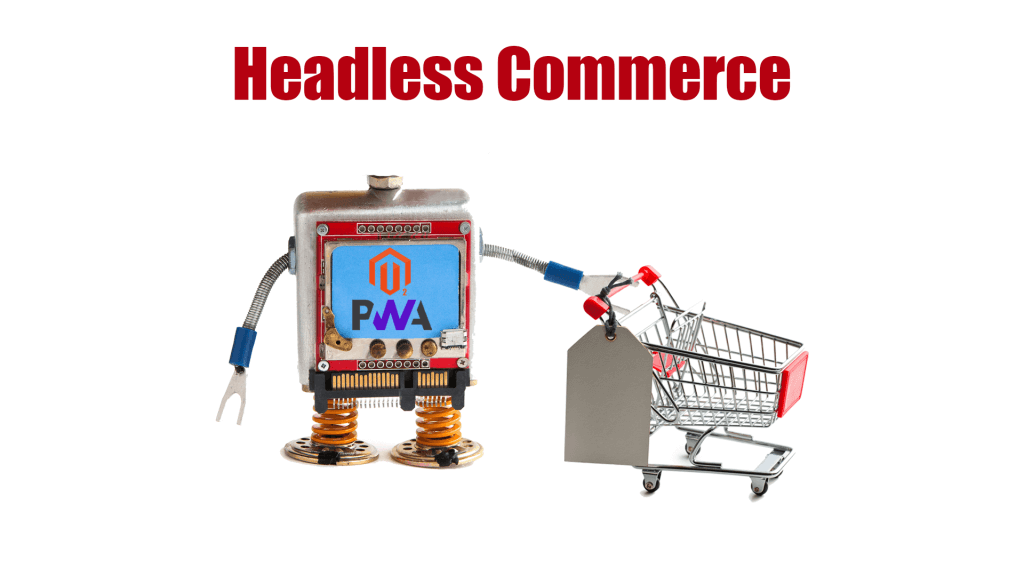 Headless commerce, in simple words, is really a technique that has been going on for a long time especially in the Magento community. It is also being called API-based commerce, using REST, using GraphQL. It is the beginning of evolution at Magento headless commerce in its basic form. It helps decouple business logic transactional and data aspects of commerce from a presentation. So what does it actually mean from a Magento 2 standpoint? Traditionally, it started off with a lot of the great work that was developing around Magento 2.0 based on the findings from one auto of course. We used to start from the frontend, then backend, APIs all together. We could still access and there are some great experiences that were created in that traditional approach. But the businesses wanted to go faster in the market. Thus, nearly 3-4 years ago the Magento team started working on decoupling the frontend from the backend. This creates opportunities not just for customers to have a better shopping experience but also for the development teams to make changes without worrying about the backend. It means to bring a new standard such as React-based PWA Studio or React-based Vue storefront. It also opens the door to a brand new ecosystem in Magento. All these reside around GraphQL which we introduced with Magento 2.3 and we continue to be on a path towards headless that is going to be separately decoupled from the frontend with storefront APIs.
Where does PWA Studio fit with headless?
Scaffolding

: Creating a new PWA or storefront on Magento 2

Creating and replacing:

Writing your own components with intercepts

Extensibility:

Installing extensions and replace our default components
PWA or PWA Studio is a form of headless and headless Magento can be found in a variety of examples that existing across the community. The development tools are used to build, optimize and deploy a series of functional components, UI components, and build upon the GraphQL layer.
How headless is building with PWA Studio and GraphQL?
PWA Studio helps in building, optimizing and deploying but in the reality, it is shaping GraphQL and fast follow all the work. From the merchants, PWA has got a lot of recognition.
Adobe has responded by continuing investment in its PWA Studio, plus a GraphQL API that eases storefront development. Adoption of PWA Studio and the PWA reference storefront Venia continues to as it becomes the default frontend technology for new clients.
The PWA Studio is positioned to lower the cost and complexity of adopting Progressive Web App experiences
PWA Studio by the numbers…
50+ Known Magento stores build using PWA Studio every day

20+ known 3

rd

party extensions and themes for PWA Studio

731 Stars in GitHub

2248+ Members in our Magento Community

120+ contributors for PWA Studio to date
About Author