In the 21st century, we have seen a huge growth in the e-commerce industry and online shopping has become a new normal. People of every age group are now leveraging the e-commerce industry either for their daily needs such as groceries or medicines, or fashion & luxury products. People with disabilities also want to use this technology. Thus, it is becoming imperative for online retailers to design their e-commerce stores in such a way that people with disabilities can also access the store. America's ADA (American Disabilities Act) compliance prohibits discrimination against individuals with disabilities in any domain of public life. ADA Title III mentions that the businesses must offer the same services for both able and disable customers.
Recently, there has been an increase in the legal procedures against the accessibility of the website upholding the ADA spirit for reaching online user experiences. Popular companies such as Brooks Brothers and Foot Locker are facing legal procedure against ADA compliance violation with 200 others. In the US alone, there are more than 50 million people with disabilities, hence it is imperative for your online store website to comply with the law. It will not just prevent your business from facing any lawsuits but will also make sure that all the audience of your website can access it to the fullest.
There are many different hurdles that persons with disabilities face while accessing a website. The major obstacles to accessibility are:
Size and Colour of Font

Inaccessible format documents

Multimedia lacking accessible features

Text equivalent images absent
What is our approach for making the site ADA compliant?
To make the site ADA compliant, you have to follow the guidelines shared by WCAG (Web Content Accessibility  Guidelines). These guidelines are widely recognized for website accessibility policy and are a standard for website accessibility legislation in many countries. It was created by the World Wide Consortium, popularly known as W3C.
Accessibility of the website was amongst the first issues addressed by W3C. The first WCAG was published in 1999 mentioning how to make web content more accessible to people with disabilities which includes visual, auditory, physical, speech, cognitive, language, learning, and neurological. Then it was revised in 2008 as WCAG 2.0. The latest update was made in 2018 as WCAG 2.2 that we use today.
While making the site ADA compliant, we will address the checklist items of levels A & AA along with verifying ADA compliance on a site using a reliable 3rd party tool of your preference.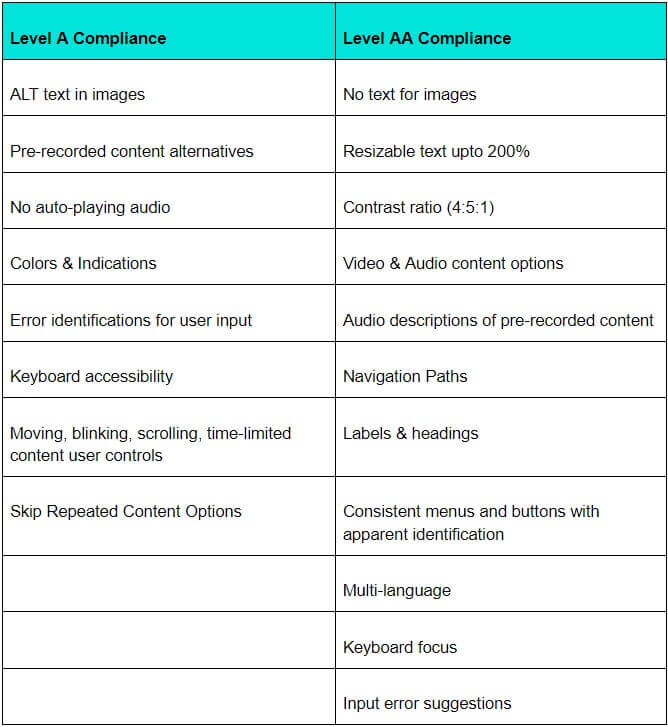 The above-mentioned guidelines are just a few checklists of the WCAG. Our expert developers and designers will fix all the checklists generated on the ADA Compliant report. We focus on the core improvements instead of taking a shortcut of installing 3rd party widget. When all the metrics will be resolved such as font size, two-tone coloured page, text to speed conversion etc. we will again check it for ADA compliance, and this will be a recurring process until it gets 100%.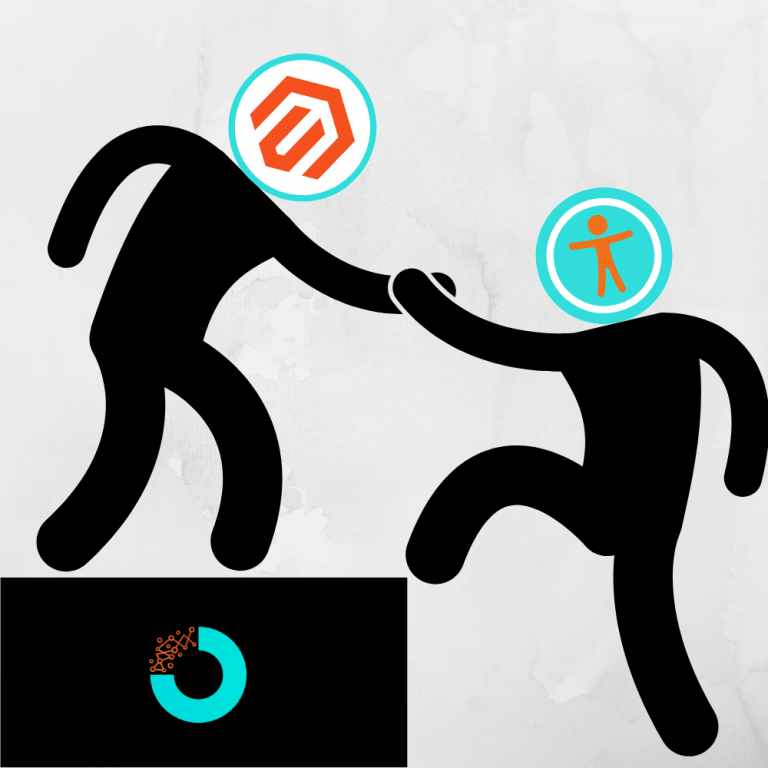 Developing a Magento store will not only help you in delivering the best shopping experience to the users but you can also find accessibility concerns solutions without compromising the user experience of the website. Using  Magento, you can create a personalized customer journey emphasizing equitable experiences that can benefit the whole customer base.
It includes interactions with the essential elements of your e-commerce site like a conversion funnel, keyboard navigations like TAB buttons and HTML 'tab order" for those who can't use it. It is not just limited to the screen readers or assistive technologies but also includes colour contrast adjustments, font sizes, and replacing images with text instructions. ṣ
The ADA compliant also depends on accessibility technologies which may need the help of an experienced developers team like Ceymox Technologies for integrating throughout the Magento site.
ADA Compliant Magento Store Benefits:
Creating your Magento store ADA compliant is critical to avoid any lawsuits or legal proceedings. It will also give you economic benefits as well. Some of those are:
· More traffic & conversions:
Accessibility tools and widgets such as text for images, audio descriptions, color contrast adjustments, etc. will not just improve the access to the content but it will also increase the traffic and enhance conversion rate. It will have a universal reach to the buyers.
When your Magento store is ADA compliant and the features can be accessible to all. It will improve the reputation of your brand and stay competitive in the market. If the customer will not be able to navigate the content, then they will move away from your site and go to your competitors.
ADA compliant websites often receive higher rankings on search result lists with search engines like Google and Bing.
· Boost Goodwill and Business Value:
When there is no discrimination among the customers for accessing the content of your site then it will increase the value of your brand. The relationship with customers also becomes more personal.
Why to Choose Ceymox Technologies?
At Ceymox Technologies, India's best Magento development company, we understand ADA compliance importance and have expertise in integrating it within the Magento ecosystem.  We will be a trusted partner in making your site ADA compliant. We don't believe in using any 3rd party plugin for making the site ADA compliant but will work closely on every fix adhering to the WCAG guidelines. Contact us today to protect your Magento store from legal disputes and boost your business among a diverse customer audience.
About Author