Having a presence on the mobiles of the users has become imperative for almost every business and organization. There is no qualm in this fact that the number of mobile users is quite high in comparison to desktop users. Thus, businesses are leaving no stone unturned to effectively use mobile channels for attracting customers. For having a presence on the mobiles, there are two widely adopted options: creating a mobile application or a mobile website. At the first glance, both mobile websites and mobile applications may look similar, but there is a plethora of factors which will determine which would be perfect for you. The common factors are target audiences, available budget, intended purpose, and required features.
Difference between a mobile website and a mobile app: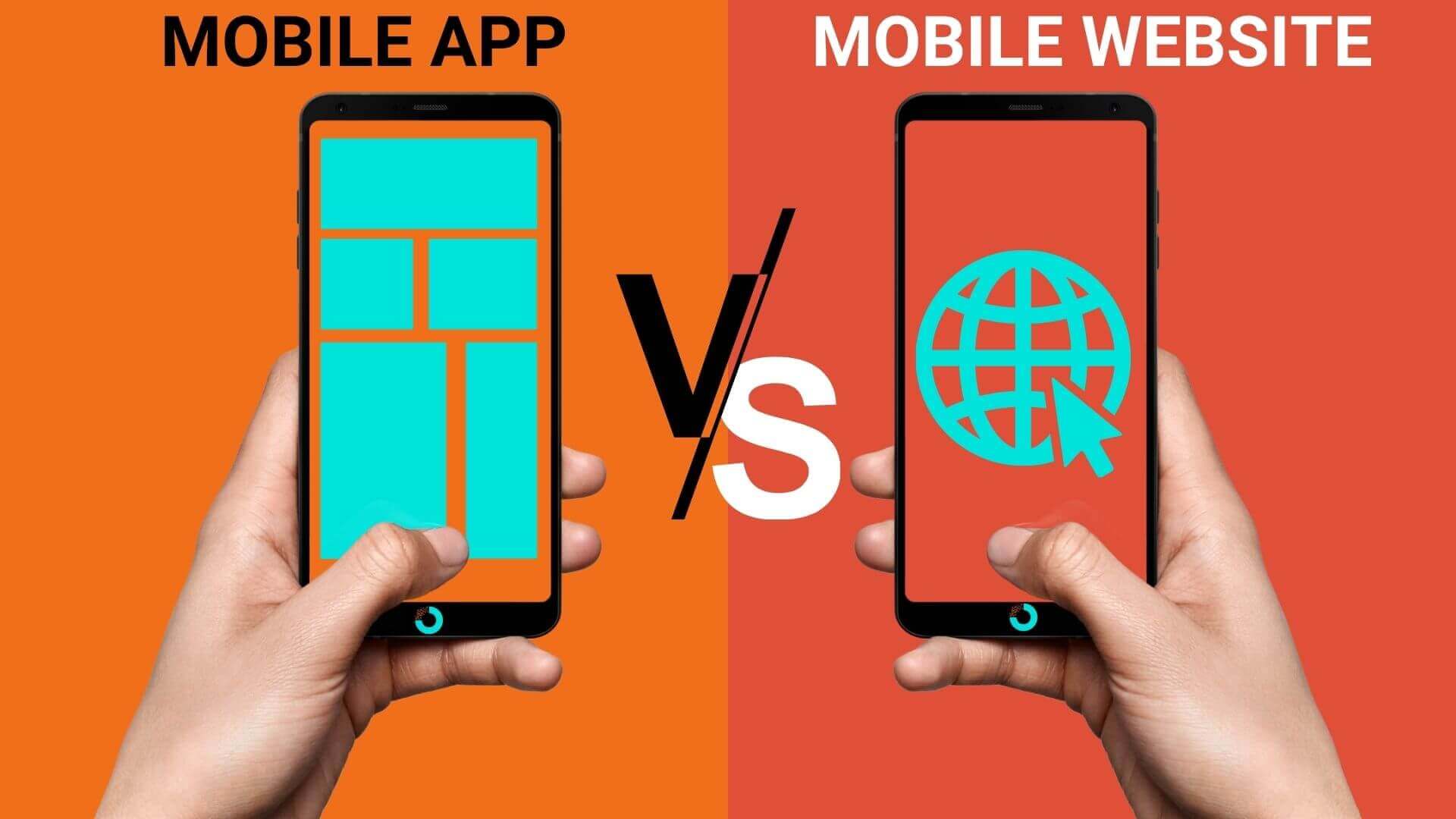 Before analyzing the benefits of a mobile website vs. an app, let's first understand the main differences between both. Both mobile websites and mobile apps are accessible on smartphones, tablets, etc.
When you check a mobile website, it is similar to any other website. It has HTML pages which can be browsed on a browser and are linked together. They will be accessible through the internet just like a website. What differs a mobile website with a standard website is that it is specifically designed for the small, mobile devices, and touch interface. Currently, the highly mobile responsive design has become a standard for the website. It makes the standard website mobile-friendly and they are scalable as the screen-size for any device i.e. from desktop to small smartphones.
There will not be any difference in terms of the content. It means the content which was present on the website such as media files, images, audios, etc. will also be present on the mobile website. In fact, on mobile websites, the features will get the increase by using the capabilities of mobile hardware.
On the other side, mobile apps are actual applications which the users can download and install on their devices. Unlike a mobile website, which you can check without downloading it, the same is not true for a mobile app. Users can download the app as per their operating system. For e.g. Android users can download from Google play store, iOS users from Apple App store etc. The app will pull content using the internet or can also download the content so that it would be accessible without an internet connection.
What is better for your business – a mobile app or a mobile website?
While deciding whether you should move with app developer or mobile website development, it is imperative to first analyze your business goals. If you are focusing on a mobile game then the app development should be your first choice. But if you want to provide your users rich-content which they can also check out on their mobiles then you must opt for a mobile website. There may be scenarios when you will require both mobile applications and mobile websites, but it doesn't make sense if you don't have a mobile website and you are going for mobile application development.
Generally, the mobile website is the first step of entrepreneurs to provide a mobile web presence to their audience. They move for mobile application development when web technologies are not sufficient to meet a specific purpose.
Advantages of a mobile website vs. native mobile apps:
If your primary goals are related to better reach of audience, marketing, then a mobile responsive website would be a practical and a better step in your mobile outreach strategy.   The reason is that a mobile website has numerous advantages over a native mobile app such as broader accessibility, compatibility, cost-effectiveness, etc. We will discuss each important factor in more detail…
1. Instantaneous: Mobile websites are immediately available
The users can access a mobile website instantly regardless of which mobile platform or device they are using. While checking out the content of a mobile app, they have to first download the app, and then install the app in the device. This is a significant barrier between initial engagement and action/conversion.
2. Compatibility: Mobile websites are compatible across all smartphones & tablets:
You don't need to develop a different version of mobile for different mobile platforms or devices. A single website can work across a wide range of devices and mobile platforms. While in mobile apps, you have to develop a different version as per the required platform. For e.g. an android mobile app can't work in iPhones, for those you have to develop an iOS mobile app. Furthermore, it is easy to integrate mobile websites URLs with other mobile web development technologies such as SMS, QR codes, and NFC.
3. Updates: Users don't need to update mobile websites:
A mobile website is more dynamic than a mobile app regarding flexibility for updating the contents. For updating the design or content of your site, you can simply make changes in the frontend, and they will be immediately visible at the users' end. While if you make major changes in an app, the users have to download an update to check the latest content.
4. Presence: Mobile websites are easy to found:
The users can easily find the mobile websites as their pages are indexed by the search engine and are displayed in search results. Most importantly, when a user regularly visits your site, they will be automatically sent to your mobile site when they are using a smartphone. While the visibility of mobile apps are limited to the app stores.
5. Reach ability: Mobile websites have a broader reach
Since the mobile websites are accessible through multiple platforms and can be shared among users, they have a broader reach.
6. Lifecycle: It is unable to delete a mobile site:
The average life on an app in the app-shelf is quite short. As per research, it is less than 30 days. Thus, unless your app is highly unique, or for daily use, you can't be sure about its presence on the user's smartphone. Mobile websites are always instantly available to users.
7. Mobile website can be an app but not vice versa:
It is possible to develop a mobile website as database-driven web apps which can act like standard native apps. Basically, a mobile web app is an alternative to a native mobile app.
8. Time & Cost: It takes less time & cost to develop a mobile website:
Developing a responsive mobile website will certainly take quite less time and cost than a native mobile application. Also, if you require a presence on multiple platforms such as Android & iOS, then there will be a huge difference in the cost.
9. Support & Maintenance:
Last but not least, the investment consideration is not just limited to the launch of the app, but also for maintenance, updates, & support. There are many issues for upgrading, testing, and deploying updates of an app in comparison to a mobile site.
When to opt for a mobile app?
Despite so many benefits of mobile websites over mobile apps, native apps are still popular. There are some specific scenarios when developing an app would be the best choice. Here are these:
For a highly interactive game such as Clash of clans, developing a mobile app would be the best choice. If the game is simpler such as puzzles or quiz, there would be hardly observable differences between a mobile website and mobile app.
If your target audience will be daily using your app in a personalized manner such as Facebook, Instagram, payment transfer apps, etc. then a native app provides a great way to do as it is accessible in all scenarios. Read a blog related to e-commerce personalization.
c. Complex Calculations & Data manipulation:
If you need something by which you can get users' data and then manipulate it with complex calculations, charts or reports, then a mobile app will be a great choice.
d. Native features & functionality:
Mobile web browsers are coming with great potential to access certain mobile features like click-to-call, SMS, device libraries, GPS etc. However, if you want to access the camera or processing power of mobile then only an app can do that.
Push notifications are a great capability of mobile applications. The apps can send notifications about the new offers, news, discounts etc. Obviously, the user has to give permissions to the app first. But an interesting note is, that many browsers now allow sending notifications to the users. They will also ask permissions.
f. Offline content availability:
This is something which is not possible with mobile websites. The native apps have the ability to download the content and serve it offline once downloaded. Not every app can do that, but apps like music streaming, blogs, video streaming, etc. come with this option.
As the number of mobile users is tremendously increasing across the globe, the 'app vs. web' question would be a crucial consideration for the companies to establish a mobile presence. If you want to deliver marketing content, and want to establish a mobile presence then mobile websites would be a great choice. However, if you are in the gaming genre or you need the users' data for a personalized experience then app development will be required.
Why choose Ceymox Technologies for mobile websites?
About Author