Suppose you want to purchase a car and the car dealer shows you 3 different types of cars: 1) A car with almost zero cost and basic capabilities plus extra payment if you want extra features; 2) a luxury car offering sheer comfort and smooth riding experience; 3) a premium sports car with superior engine, extremely high horsepower that can help you reach your destination in a blink.
Which one you would choose?
Obviously, there will be a plethora of factors that will contribute to the choice of purchase – as no one buys a sports car to go to work regularly. This analogy also works perfectly for the Adobe Commerce (Magento) editions. Adobe Commerce offers multiple editions to choose from with different pricing and features as per the need of the online store retailers.
Ceymox Technologies is the most reputed Adobe Commerce development agency in India with certified Magento developers having 10+ years of experience in Magento. We have developed hundreds of Magento stores from scratch, optimize them, implemented new features and functionalities, and even choose the right platform edition for their business needs.
In this article, we will talk about money and understand how much it cost to build a Magento store, the different types of editions of Magento as well as their pricing.
What is the cost of Magento 2 or Adobe Commerce?
Generally, people get confused with the total cost of ownership (TCO) of any e-commerce platform. Someone promised zero platform fees for Magento, yet you are spending thousands on 3rd party extensions and hosting services.
Thus, it is always essential to have a detailed look at the pricing structure of any e-commerce solution you choose. In this article, we will take a closer look at what comes in each Adobe Magento pricing tier. Continue reading this article to understand what you will get in each Magento edition and which plan aligns with your business requirements.
Magento Open Source Cost:
You can start your e-commerce journey free of cost with Magento Open Source. Magento Open Source is free to download available. You can download it, modify and edit its files, store the data, and host it anywhere.  Also, don't think if anything is freely available then it would be of no use. Magento Open Source comes with extensive features by which you can start your B2C store. Some of those features are:
Catalog management

Integrated checkout, payment, and shipping

Mobile commerce abilities

Instant purchase

Powerful search

Multistore functionalities

WYSIWYG Page Builder
However, one should remember that zero license fees don't imply zero TCO. Apart from the license fees, there will be other expenses while building an e-commerce store such as:
The rate of hosting for a Magento store lies in the range of $4 to $500 per month. The cost will vary as per the server's features, support, and security. Magento is a heavy platform that requires extensive server capabilities to sustain Magento installation files and incoming high traffic. The best choice would be to opt for a dedicated server instead of a shared hosting. Here is a list of the best Magento hosting providers.
After the acquisition by Adobe, Magento has been limited in providing its pre-built themes and pushing online retailers to build their own customized themes. However, if you want a free theme then you find a lot of themes on community-based websites like ThemeForest. But these themes are not well-optimized and are poorly coded. So we will recommend opting for Magento theme design services for a unique styled theme as per your brand.
Since Magento Open-Source doesn't come with highly customized features, you may require multiple 3rd party extensions to build up your required functionalities. You may also require 3rd party software like ERPs, CRMs, PIMs, or other systems to integrate which are available on the Magento marketplace to download. The cost of these extensions and systems can lie between $0 (free of cost) to $15,000. You may also hire a Magento development company like us to develop a custom module whose rate will determine by the hourly rate of the developer.
4. Store maintenance and support:
After the development phase, the maintenance and bug fixes will be a continuous process. The cost of maintenance and support services by a Magento development company will depend on the hourly rate.
Every penny spent is always worth with Adobe Commerce. Adobe Commerce is an enterprise-level platform offered by Adobe (earlier known as Magento Enterprise). The license of this platform depends on the turnover and is capable to serve both B2C and B2B enterprises. In addition to the features offered by Magento open-source, it offers much more advanced features:
Business-to-Business Capabilities

Dashboards equipped with Business Intelligence

Advanced Marketing Tools

Easy to manage Content Management System

Loyalty Programs tools

Visual Merchandising

Recommendations of Products

Customer Segmentation

Bundled Products Functionality
The most important about Adobe Commerce is that it is a tiered model based and will increase along with the GMV (Gross Merchandise Value) and Average Order Value (AOV).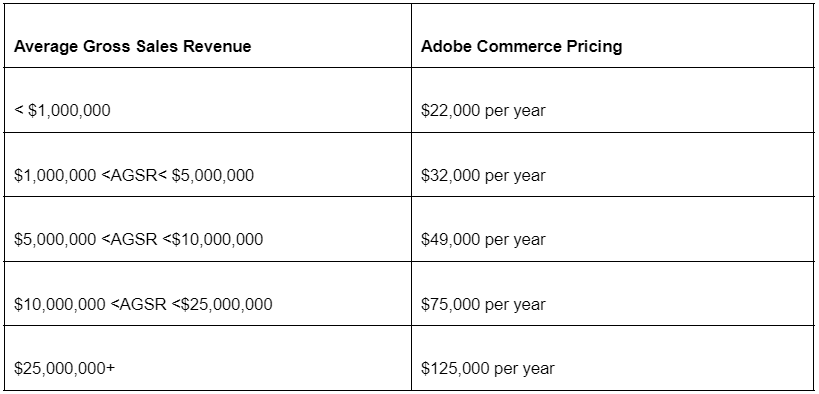 This is not the exact pricing but an approximate one and is for illustrative purpose to get a rough idea. If you want to know the exact pricing then you have to contact the Magento sales vendor.
Like its free counterpart, Adobe Commerce is also a self-hosted solution. Thus, you will be liable to manage the e-commerce hosting cost on your own. You can either host the Adobe Commerce store on-premises or you can opt for Cloud hosting.
Adobe Commerce Cloud Pricing:
Adobe Commerce Cloud is the sports car which we were talking about in the beginning. With all the features of Adobe Commerce, and Magento Open-source, Adobe Commerce Cloud offers limitless capabilities of cloud hosting, faster speed, improved security, and much more. You don't have to manage the hosting on your own in this edition. The store will be hosted either on Amazon AWS or Microsoft Azure. The pricing is directly proportional to the GMV: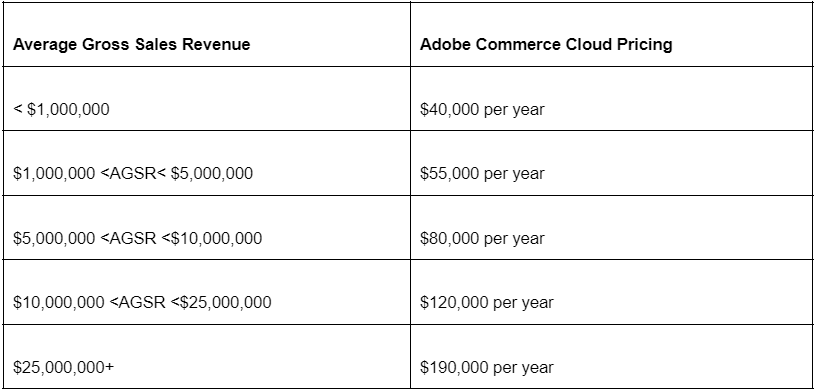 This is not the exact pricing but an approximate one and is for illustrative purposes to get a rough idea. If you want to know the exact pricing then you have to contact the Adobe Commerce Cloud sales vendor.
Note: The target merchants of Adobe Commerce and Adobe Commerce Cloud are high-ticket, complex businesses. Ostensibly, the licence fee of both Adobe Commerce and Adobe Commerce Cloud seem to skyrocket but in future, every penny will be worth it. Here are some benefits that will help you save money after upgrading to Adobe Commerce or Adobe Commerce Cloud:
You would be able to automate most of the manual tasks such as order entry or stock entry. Thus, you can save by hiring more staff. For a large organization, the savings can reach the amount of $341,000 in value of staff time per year.
• Useful Analytical Reports:
With the in-built Business Intelligence (BI) tools, you would be able to gather useful insights into your business and can take better business decisions, instead of spending the budget shooting in the dark.
After moving to Adobe Commerce/+Cloud you will not require to spend an extra penny on additional features as Adobe Commerce offers all required out-of-the-box features.
Implementation Cost of Adobe Commerce (Magento):
Regardless of the platform you choose among the Magento Open Source, Adobe Commerce, or Adobe Commerce Cloud, you will have to pay the development cost charged by the Magento development agency.
Generally, there is an hourly rate of the Magento development services, which lies in the range of $25-$200 per hour depending on the developer's location, experience, and any certification of Adobe. The agency will share the total number of hours of development which you can multiply with their hourly rate to calculate the total cost.
Here is an approximate bifurcation of the hourly rates as per the demographics: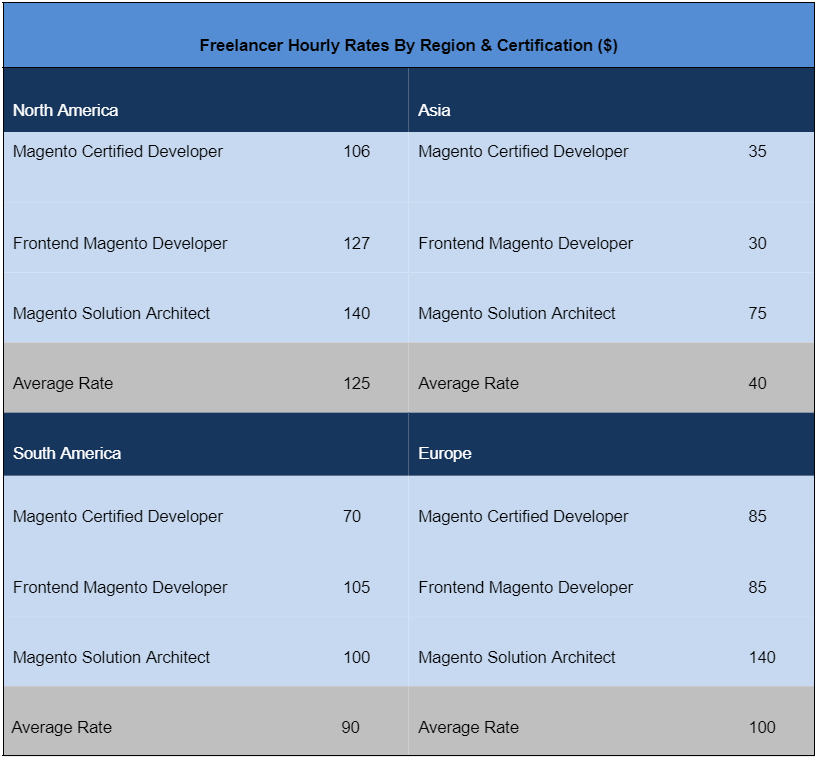 Let's understand by a simple example. Suppose you want to develop a fashion retailing website. A fashion site design should have a custom-made theme and exciting features and functionalities to convert traffic into customers. In such cases, generally, it takes 135-150 hours for the design and 200 hours for the platform implementation.
It takes less time to develop the custom modules (up to 30 hours), thus they are cheaper as well. These modules can be a part of the website maintenance cost which is mostly 60 hours for a month. Ceymox Technologies provides the best maintenance services that include Magento code audits, optimizing speed and performance, and much more.
Magento Pricing In Brief:
Is Magento Expensive? Let's compare it with the Competitors
The pricing of any e-commerce platform is determined by the choice of the platform. Many vendors initially feel that the Magento pricing is quite steep, thus it is always wiser to compare the platforms.
Here is a brief comparison of the pricing model of Magento with its competitors:
Frequently Asked Questions (FAQs) of Magento Pricing:
About Author