You would be surprised to know that every 5th search made by mobile on Google is voice search, and the numbers are only going to increase in future. The search in the upcoming time would be more intuitive, natural, and voice-based.
There is a huge availability of voice assistant devices in the market. Voice search in Google is nearly 95% accurate. You must be aware of the most popular voice-assistant devices in the market such as Amazon Alexa, Google Home. There are many other devices too Windows 10 Cortana, Apple Siri, etc. However, Google voice search is dominating the voice search industry and the e-commerce industry is leaving no stone unturned to leverage this thing.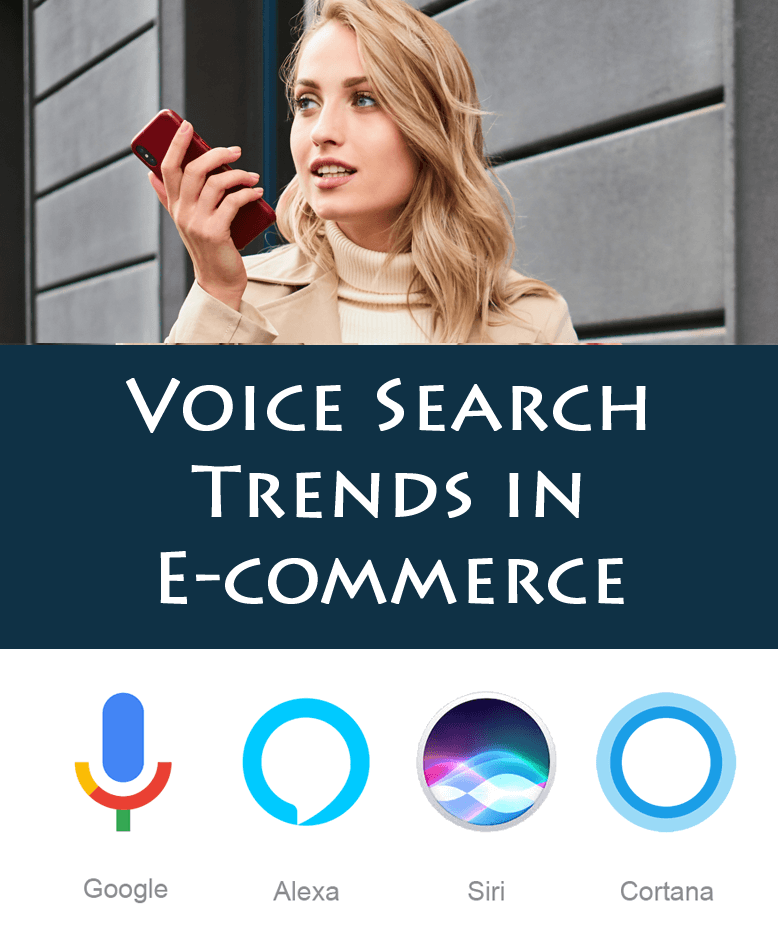 If you are an e-commerce store owner then you must continue to read this article in which we would be highlighting or mentioning the voice search trends and how you can leverage them for increasing the sales on your e-commerce store. Do you want to know more about what voice can do with ecommerce?
Voice Search Introduction:
It is clear to understand that voice search implies "using your voice to search on a platform". The search engine makes use of both spoken and unspoken words to find accurate queries. Voice search is available on almost every smartphone and many voice-assistant devices which we mentioned above.
Voice search is quite different from the traditional way of search. Suppose a customer wants to buy a pair of Reebok shoes. In a general manner, the customer would have written phrase "Reebok shoes" in the search box, but in a voice search, he is more likely to search by saying "Hey Google, I want to buy a pair of Reebok Shoes". As per a PPC report, the customers on voice search are likely to raise queries or questions to find the answers. Hence, voice search is considered as a top-funnel activity.
Why there is so much frenzy about Voice Search?
There are many reasons why voice search about the huge wilderness about voice search in the e-commerce market. Some of the important points are:
Voice search is 3.7x faster than the traditional method of search by typing. In fact, an average person can type 30-35 words in a minute while he can speak 100-130 words per minute.

Through voice search, customers can search for products through their natural language.

It is hands-free i.e. the users not necessarily required to hold the phone.

Voice search can be used for home automation systems

72% of people who own a voice-activated speaker confess that their devices are mostly used as a part of their daily routine.

Make a human-like relationship with technology
Importance of Voice Search with Magento:
Above-mentioned points are showing why voice-commerce is such a big trend among users. But how does it become a big concern for e-commerce stores? Let's know how voice search features can affect e-commerce businesses?
After the growth of voice technology, brands can't be limited to visual appearance. They must be able to seen and heard. Just like a human, when a search engine hears the name of a brand in a voice-search, it makes perception and gives better visibility to that brand.
People also have perceptions in their minds about certain brands. Take an example of Maggi, it is not just a brand of Nestle but is synonymous with whole noodles categories, the same is true for Surf Excel. Hence, the brands must focus on the core and crux of voice search marketing to improve their presence in voice search.
2. Voice Search is Smart:
Voice search is not just searching with voice, but it is an outcome of artificial intelligence and an introduction of machine learning in the market. Voice search is built with implementing a huge number of algorithms which are smart enough to understand your habits and needs.
While ordering medicines through voice search, it will understand it and remind you to order medicines at the end of every month. It will change the customer relationship management. Voice search also collects data to analyze the customer behaviour which helps the industry to serve better customer needs.
3. Voice is better than human capabilities:
It means that voice search is quicker and efficient than typing a phrase for search. As mentioned above, an average person can type just 30-35 words in a minute while he can speak nearly 120-130 words per minute. This makes the voice search process giving instant results to the user. Also, the users don't need to touch the device for searching i.e. users can search while having a workout, cleaning home or washing dishes.
4. Multi-purpose devices:
Voice search isn't limited to just for searching but has many others uses too. People spend most of their time with their smart devices and smartphones. Voice search makes it even easier for them to navigate around and use their devices for multiple things at the same time.
How to prepare your Magento E-commerce Store for Voice Search?
You must have understood the huge trend of voice search and how it can directly impact the sales on e-commerce. If you want to become a part of the voice search ecosystem then your e-commerce store must be in the voice search results right from the beginning. Hence, you must follow the SEO optimization techniques that are related to voice searches. Here are some of the important steps you need to take:
1. Voice Searches are mostly questions:
We have already mentioned this above, that the customers make voice search in the form of queries or questions. So if a customer needs to buy a pair of headphones in London, he will search "Hey Google, which is the best electronic gadgets store near me?" So you have to consider these important points which optimizing the SEO of your site for voice searches. You must structure the content such as blog posts, FAQs, etc. in such a way that can answer the questions or queries raised by your target audience rather than being focused on keywords or phrases.
Also, give attention to the "trigger words" which are used in voice search and include these trigger words in your e-commerce site content. The common trigger words are top, free, new, latest, what, best, how, who, when, do, types, etc
2. Focus on Long-tail keywords:
In voice searches, people prefer to speak more and hence use long-tail keywords. These long-tail keywords may have low search volume on a search engine, but they also have less competition. To identify the long-tail keywords, you can think on your own about what can be the questions when the user will search for products of your niche. You can also take the help of Google Analytics tool to know the impact of voice search on your e-commerce store and keyword ideas. It would be trickier to find the exact number of users who landed on your site by voice search. Here is how you can find something:
Conversational Keywords: If the keywords include long conversational keywords then it implies that the searches were made using voice.

 

Length of queries: If you aren't able to get keywords data then you must check the length of queries. Again, longer queries show the presence of voice searches.
3. Try to get Featured Snippets Position:
Do you know what featured snippets are? A snippet is the zero result for a voice search and gets a higher position for a search result. There are chances that you have interacted with them but not clearly observed them. Snippets are the short clips of the website content which is highlighted by the browser in its own box for answering any question or responding to a request. Here's an example:
It is a most required feature for every website as the user tends to open a snippet rather than any other search results. But it needs a very high level of SEO. There is no shortcut for getting featured in snippets. The AI behind the voice search is programmed to use the featured snippets for answering the voice search queries.
4. Improves your website structure:
When your Magento e-commerce store data is properly structured and gives information to the search for indexing. Using this strategy, your e-commerce site can get higher search engine rankings because Google gives priority to the properly data structured sites.
Let's take an example of the site reviews. You must have seen the stars shown below a site in Google search results like this:

This is the outcome of schema markup implementation. There is a review score provided by users. You can check other schemas here.
5. Google Shopping Listing:
As we mentioned above, Google voice search is the dominating voice search in the industry, and Google gives the highest priority to Google Shopping products. Hence, it is great to enlist the products of your site on Google Shopping. So when a user will search on Google, your products would be easily discoverable by users. Currently, you can use many extensions which can sync the products of your Magento store to Google Shopping. These extensions can map the product data, its images, content, price etc. Using an extension will also save your time and efforts, and also eliminate the need for any additional resource for managing products.
It is hard to find a FAQ page on a Magento e-commerce store as there is no need of that. But a FAQ page for your e-commerce store can help the users to get resolved all their queries and give the customer better shopping experience. It will also help to inform customers about all return & replacement conditions.
And for voice search, you can stuff all your voice search keywords on the FAQ page without looking odd. The voice search queries are quite similar to the content or questions on a FAQ page.
7. Integrate voice search on Magento store as well:
You can't just depend on the search engine voice search capabilities but also make use of voice search in your site too. If there are thousands of products on your e-commerce store then it is highly mandatory to provide a streamline customer experience. You can use a smart voice search in your site that can understand what customers require through their queries.
As the customers are coming on your site through voice search, they also expect a voice search on your e-commerce site as well. So that they would be able to find their products on your site without touching the screen.
8. Every voice search is different:
Apart from Google, there are many other voice searches in the market, but they are not same. They come with the ability to change the default search engine by users, but most users don't change. Some of the popular search and their default browsers are:
Amazon Alexa :  Bing

Google Assistant :  Google

Microsoft Cortana :  Bing

Apple Siri :  Google
9. Make an account on Google My Business:
If you want to provide all the details of your business to Google, it is best to register it or make an account of your business on Google My Business. Hence, when the users will make your business-related queries on Google, they will get results on the top of the mobile screen and voice search. It is quite to make an account on Google My Business, however, it requires verification so you must not expect quick results.
10. Leverage Social Media and Customer Services for Research:
If you want to prepare your site for voice search, you need to know what are the popular questions or queries. Social media platforms are a great medium to know what expressions are getting used by customers. It initially seems cryptic, but there are many solutions to this problem.
After reading this article, you must have understood the potential of voice search in the e-commerce industry. Voice search is becoming a part of a customer's daily life. There are many voice search extensions in Magento that you can use. If you wish to integrate voice search in your Magento e-commerce store or want to create a Magento e-commerce store from scratch, then we can definitely help you. We, at Ceymox Technologies, are having expertise in all the aspects of Magento development. Let us know your requirements and get a free consultation.