If you are a fresh D2C brand you must be really concerned with the growth of your business and the choice of an e-commerce platform for your online business also matters a lot. In all possibilities, you must have launched the e-commerce store on a free or a low-cost platform like Magento Open-Source or Shopify. However, now it has been a time since you are running on your store and you are considering upgrading the platform. Again there is a choice, Adobe Commerce or Shopify Plus? Which one should you choose for an enterprise-level store? In this article, we will go through the enterprise-level D2C store requirements and also compare Adobe Commerce and Shopify in different factors.
Direct To Customer: Journey So Far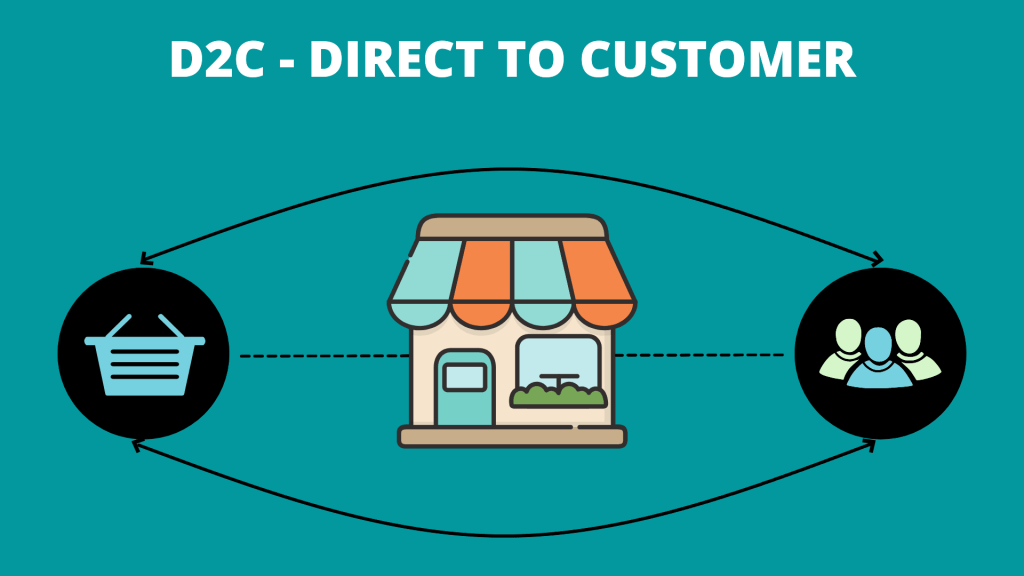 In the last decade, D2C online market has emerged rapidly with a growth rate in double-digits every year. It is projected to maintain a further 19.2% growth in 2021. The shift and transformation of the shopping habits of the millennials are the important factors for the boom of the D2C market. The coronavirus pandemic has also served as a most important factor for the rapid surge in the D2C e-commerce industry. But D2C e-commerce is a highly competitive industry. The customers' expectations are always high from the e-commerce stores and a preference is always given to the lowest price offering stores. Since the customers don't need to do any physical movement for navigation to different stores, they can easily check the prices of the similar offerings on the other stores and this, in turn, increases competition.
How Consumers Expectations are always high?
Since customers have accustomed to e-commerce shopping from popular e-commerce marketplaces like Amazon, Flipkart, and others. They expect every other e-commerce brand to deliver a similar customer experience. Here is some data from Scalefast in this regard:
61% of the customer are ready to share more information with the e-commerce stores for a better customer experience

More than half of the customers expect a personalized discount if they are shopping from the brand for the first time.

51% of the customers say that it is vital to get a personalized experience through the different channels of the brand.
4 Primary Levers of D2C Success:
In D2C you alone are responsible for the entire customer relationship and leveraging all the data for delivering a better and personalized customer experience. In turn, D2C strategies are already enabling new sources of revenue through subscriptions, new product launches and customized ways for higher user loyalty.  There 4 primary levers of D2C success are:
a. Improvement in Profit Margin:
D2C eliminates the need for any intermediaries, thus you can reduce distribution costs and have higher control on the profit margin. Distribution inefficiencies are turned into extra income in the direct relationship with the customer.
b. Create Customizable Experiences:
In D2C e-commerce you can provide a customizable or personalized experience to the customers. This will increase the customer retention rate in return. You have control over the entire customer journey: from website to personalized e-mails, messages or product delivery.
To maintain an A-grade customer relationship you must have access to all data in real-time. This will let you identify patterns, trends, needs, preferences and know the preferences or tastes of customers.
d. Digital-first marketing possibility:
Brands that are entering the e-commerce industry are having global control of all channels. They regulate their branding and conversion efforts under one funnel.
We have reached the 3rd decade of the 21st century and thinking what would be the next trends in D2C? It is clear that the brands would be focused on growth, and they see growth as a multi-faced endeavor: more customers, more products, more channels, more markets, and more brands. If you are a D2C brand then you must focus on these points:
1. Create multiple customer journeys upfront:
The e-commerce stores should sell multiple consumers personas in multiple arenas. You need to create and execute numerous end-to-end customer journeys, from awareness & consideration, to purchase and post-purchase experiences.
Even the successful D2C brands are not limited to selling only to customers and have build relationships with dealers, wholesalers, or distributors. Brands like Puma still sell directly to customers but also sell through Amazon and other platforms.
The customers are having multiple devices to access the internet and in particular websites or apps. They will see the ad of the product on any mobile app, check it on the website or app on their mobile, and then will ultimately buy through the laptop. A successful brand would be clever enough to tell a unified story across the different touchpoints.
4. Create a Culture of Content:
This is a major lesson of initial D2C brands: consumers are always looking for product data and brand stories and will check them. As a brand, you must provide enough content to the customers and map it to each stage of the customer journey. Customer reviews, testimonials, social media posts can help in this.
You may provide your niche products to your customers but to maintain the growth, you have to expand to cater to new customers. For e.g. suppose you are a cosmetics brand that is selling exquisite lip gloss to women. But you can't just sell for women and make yourself famous as a particular gender brand. In fact, you need to start including lip balm in men to increase your target audience.
Magento Commerce or Shopify Plus: Which is the right platform for your online D2C business?
Both Magento and Shopify are full-featured e-commerce development platforms with a great reputation. Traditionally, Shopify focuses on the lower end of the market with existing templates and pre-built functionality. It allows developers to quickly start an e-commerce store. The code is proprietary i.e. you can't customize it. In 2014, the company launched Shopify Plus to attract higher-end retailers. Currently, there are nearly 427,000 sites that use Shopify, including 5000 stores that use Shopify Plus.
On the other hand, Magento Commerce has been designed for mid to large level companies. Gartner has named Magento Commerce as a leader in this category. Adobe Commerce is an enterprise-level Magento edition especially curated for mid and large-sized businesses.
In general, the total cost of ownership of an e-commerce store built on Shopify Plus is much less than the store built on Adobe Commerce. The major reason Shopify Plus is cheaper is that they focus less on backend development including database or any complicated functionality and less integration work in comparison to Adobe Commerce.
If you want to develop a customized theme from scratch reflecting your brands' image and for a better UI, then Adobe Commerce gives you this opportunity to create a truly unique experience for the customers. On the other hand, Shopify Plus gives you access to hundreds of different free and paid themes on its theme store. If you are looking for pre-built themes then Shopify Plus can be a good option.
Both the Adobe Commerce and Shopify Plus are cloud-hosted solutions, thus they offer excellent security. You also don't need to worry about the hosting provider or meeting PCI standards. However, Magento is having a better track record in terms of security. It always comes with new releases in a span of a few months, with fixing of security loopholes and better security functionalities.
All stores developed on Shopify Plus and Adobe Commerce are PCI-compliant since they are both Level 1 Service Providers under PCI/DSS (Payment Card Industry/Data Security Standard) regulations.
Search is probably the first way by which a customer interacts with your store. Also, a customer who is searching for a product in your store is more likely to make a purchase than the one who is just wandering through the products. Shopify Plus searching functionality is considered to be pretty weak. It can search for items if they are spell correctly, and with description but it doesn't have highly advanced features such as auto-correct for spellings, or finding products through synonyms to product searches. Due to this, Shopify Plus store owners have to look for other plugins to improve their search.
In Adobe Commerce, ElasticSearch, a popular search engine has been used for search functionality. It is one of the most versatile, powerful, and flexible search engines used on modern websites. This search engine delivers a high-level search experience to the users. Adobe Commerce supports the following with ElasticSearch:
Quick and Advanced Searches

Multi-lingual

Stop words and synonyms

Real-time data and search analysis

Downtime-free search reindexing
Shopify Plus comes with an extensive and flexible catalogue and supports a huge number of total items. There is no limit on the number of products you can add. There are many stores hosted on Shopify Plus which have 1 million+ products in their catalogue. But the only downside is that there is a 100-variant limit on the individual products. You can't create more than 100 variants of a single product. Although, 100 variants are very high can't be a usual problem but it should be kept in mind.
Adobe Commerce also has no limits on the products you can add, and features that allow you to up-sell, cross-sell, and show related products when customers browse the product catalogue and check out.
In addition to this, Adobe Commerce also allows you to create a single, unified product catalogue for each and every store you run.
f. B2B E-commerce Features:
In B2B commerce, no platform can beat Adobe Commerce. Although Shopify Plus is the "enterprise" version of Shopify it is only designed for D2C and this is its limitation. Adobe Commerce on the other hand comes with many exclusive features for B2B business as well. A few are:
One-click recording

Order By SKU

Support for bank transfers, credit cards, purchase orders, net terms, and all other major payment methods

Rule-based fulfilment to handle multiple fulfilment centres

Tiered accounts with multiple levels of buyers and varying permissions
Shopify Plus boasts its excellent scalability as it is a cloud-based platform, it can automatically get access for increased bandwidth, storage and computing resources as the traffic increases. There is no intervention of admin required. It uses a combination of AWS and Google Cloud platforms to host e-commerce sites.
Adobe Commerce is also similar but has an edge over Shopify Plus. It is more scalable as it is hosted using Adobe's cloud infrastructure, which is built on AWS. You can also host unlimited stores with Magento Commerce. Unlike Shopify, there is no additional charge for doing so, so Adobe Commerce is a better option if you have a very large portfolio of brands and e-commerce stores to manage.
Although Adobe Commerce and Shopify Plus are quite similar in many ways, Adobe Commerce is having an edge in many parameters. If you would like to know which can be a better platform for your store, we can help you. At Ceymox Technologies, the best adobe commerce development company in India, we have expertise in developing e-commerce stores from scratch and give proper consultation for the e-commerce platforms. Let us know your requirements.