In the last few years, we have seen a huge revolution in the way business was done in India due to e-commerce. India has become one of the fastest-growing e-commerce markets in the world. It has great potential for growth in future. Currently, the share of e-commerce in the GDP of India is merely 5% but in future, it has been expected as one of the largest e-commerce markets in the globe.
E-commerce Growth in India:
The e-commerce sector in India grew at a rate of 20% just last year. The industry which is having the biggest portion of pie or maximum share of GMV is the Electronics industry. But if we check the popularity on the basis of volume or most number of orders then Fashion and accessories are leading the race.  In terms of growth, the most significant growth was observed in Beauty and Wellness with 130% growth in order volume, followed by the FMCG, eyewear and Health & Pharma sectors.
Increasing Demand from the hinterland of India:
The leading e-commerce companies of India are not just limited to focus on the metropolitan cities but also giving equal priorities to Tier II and beyond cities. These cities contribute nearly two-thirds of the total e-commerce sales in India. The share is only going to increase in the upcoming years. The teenagers, working professionals, and millennials in these cities are the factors for driving growth in this sector. Tier III and beyond cities witnessed 53% growth, making it the fastest-growing region.
Order Returns are Decreasing:
Managing the Order Returns from the customers is an integral part of any e-commerce business company. If we see the numbers, in the last year, the returns (as a percentage of forwarding dispatches) has seen a decline of nearly 13% in comparison to the last year. It constitutes nearly 17% of the overall order volume in comparison to 20% in the previous year. Fashion apparels are the major items which motivate the customer to return the product.
E-commerce in the post-COVID-19 world:
A virus spread in the world and it ultimately changed the way of leading life. People are trying to stay in their homes as much as possible in a bid to promote social distancing. The coronavirus pandemic has become a great opportunity for the e-commerce business to flourish and grow, as people are making more and more orders from e-commerce sites. It wouldn't be wrong if you consider COVID-19 pandemic as a turning point of the e-commerce ecosystem in India. The e-commerce industry not just recovered but also grown by a great rate of 17% in the post lockdown period. The buying patterns and preferences of customers also changed significantly. There was a huge preference for categories like health, pharma, FMCG, and agriculture. There was a large number of first-time users on the e-commerce platform too.
India was introduced to the internet in 1995 and just a year later, the journey of e-commerce in India began with its first-ever e-commerce site Indiamart. It was the first online B2B e-commerce site in India. After the inception of Indiamart, the e-commerce industry saw exponential growth in the last twenty years. It became the mainstream post-launch of Flipkart in 2007  and the subsequent launch of Snapdeal in 2010. Interestingly, almost at the same time, we saw two major sites BookMyShow and MakeMyTrip. These sites got great popularity in the niche of online ticket booking. India readily adapted online travel bookings before any other category of e-commerce. These companies introduced Indians to a new wave of technology and let them accept it with open arms.
By 2013, the e-commerce industry has established its roots in India and started steadily with Snapdeal and Flipkart are among the major players. People are getting used to the idea of ordering online. In the same year, one of the biggest e-commerce stores in the world, Amazon entered India and completed changed the dynamics of e-commerce.
As the e-commerce industry was seeing great growth by the big players which are selling everything under their roof, there was another vertical of e-commerce on the horizon. It includes entailed companies that are selling products of a particular niche or providing services. Some of the popular companies in this segment are Myntra, Lenskart, Firstcry, Nykaa, Urban Ladder, Zivame, etc. In the last decade, these companies got a great reputation and popularity among consumers and enjoy high brand loyalty.
Growth in E-commerce by hinterland customers:
Just a few years ago, only the people of metropolitan cities were having access to the e-commerce stores and they were the attraction of these companies. But then the availability of smartphones and fast internet in every corner of the country led to a rise in the adoption of e-commerce by people living in Tier II or Tier III cities of India. Just a one-third of India's population lives in cities and rest are dispersed across thousands of towns or villages across the country.
There is a huge contribution of Rural India in driving the digital revolution across the country. It has resulted in 45% in internet penetration in 2019 as compared to the urban areas which account for only 11%. It has been estimated that there would be nearly 700 million internet users across the country by the end of 2020 and out of these 150 million internet users will be active shoppers. The local language content and video drive the internet boom in rural India, with a 2.5 times rise in penetration in the last four years.
The above statistics clearly show that there is huge growth potential in the rural areas of the country. Every e-commerce company is leaving no stone unturned to get a piece of the pie of this unexplored market. E-commerce players such as Snapdeal have developed strong roots in these cities. Other two big players Amazon and Flipkart, are also trying their best to have a strong foothold on the customers and sellers from Tier II and beyond regions of India. Artisans and small retailers in these places are also leveraging the e-commerce industry for selling their products to customers across the world.
Many e-commerce stores have also launched in Hindi and other regional languages of India. During the festive season sale, most brands witness the maximum volume of orders from Tier II and Tier III cities.
Social Commerce: A Hero in Disguise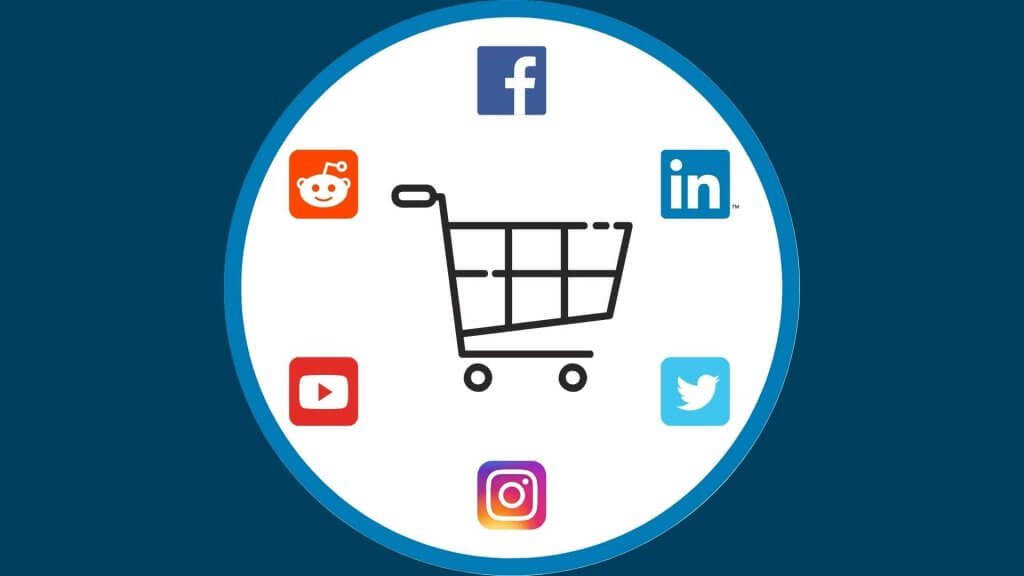 A huge population of our country has become habitual of shopping from different e-commerce stores. The e-commerce industry is also finding new ways of attracting customers to buy products. One such way is Social Commerce. Social Commerce is a great fusion of social media platforms and e-commerce. As India is amongst the topmost countries in terms of social media users, so you can expect the results in sales when there are options for the buyers to make a purchase from social media sites. Do you know that an average person spends 43,800 hours on social media which is equivalent to 5 years? When a seller sells products on social media and a customer buys them from there, then this whole process is termed as social commerce. There are many different ways of selling products on social media and can be done wholly or partially. Do you know that 80% of people who use the Internet do online shopping and there are more than 3.5 billion users of social media worldwide in 2019?
In the last five years, the homegrown social commerce players have been able to establish their niche, especially in Tier II and Tier III cities.  A recent survey revealed that India has become a leading Asian market for Social commerce and is estimated to become a vertical of $100 billion in e-commerce by 2025. One of the major factors for such a huge success is the strong regional connection and the role of a personal referral. They are experimenting with both marketplace and reseller models. They are also able to crack the code for reducing customer acquisition costs. Many other leading e-commerce companies are also leveraging the chatbots for providing the facility of purchasing to the shoppers directly from WhatsApp. Apart from one-to-one communication, it is a golden platform for online retailers to engage with their patrons. The previous year, WhatsApp has come with its Business Services for online brands and retailers. They can scale their customer service to offer new messaging tools and insights.
The e-commerce landscape of India is evolving at a great pace. There are new business models, a robust supply chain, and a rising number of online customers in the market. Industry reports from the pre-COVID times estimated that the e-commerce market in India is expected to reach $200 billion by 2027 from $38.5 billion in 2017, and the number of online shoppers may reach 220 million by 2025. We can also expect to see increasing adoption of omnichannel solutions. There will be increasing digitization by brands across multiple categories leading to an improved shopping experience for consumers. Know more about sale trends in the era of social commerce…
We are observing a huge growth in e-commerce and after the coronavirus pandemic, the rate of growth is only going to increase. If you also wish to stay ahead in this race then you must not lag yourself by not having a presence on the web. Hire an e-commerce development company like Ceymox Technologies, who are having expertise in creating an e-commerce store from scratch.