In recent years, there has been a huge increase in the number of mobile users. People are becoming mobile and they are mostly using their smartphones for surfing websites. Hence, the website owners are now taking every step to make sure their website runs smoothly on mobile phones. Especially, the e-commerce industry is not leaving a stone unturned to provide a better user experience to users on the mobiles. With this need, new technology came into existence named "Progressive Web Applications" or PWA. Know the importance of PWAs In Magento E-commerce?
PWAs are intended to provide a better user experience to the customers but at lesser costs. The site owners don't need to develop a mobile application, instead, they can opt for developing a PWA. Even large companies are using this technology such as Twitter, Alibaba, Trivago, Walmart, etc. These are not limited to only these large companies but also getting used by small & mid-sized companies.
PWAs become an instant hit. Many companies start providing PWA solutions. But one company came with uniqueness and developed a PWA theme for one of the largest e-commerce platforms Magento. ScandiPWA is the first open-source PWA theme for Magento.
Unlike many other solutions, it is not a storefront. There is not a middle layer in ScandiPWA which can slow down its speed or performance, cause bugs, or need more resources. This is a PWA theme which can be installed for any Magento 2.3 version or newer. It is a Magento first solution which allows you to use the same backend with which your developers are already familiar. In this article, we will know more about ScandiPWA, its benefits, and many other things.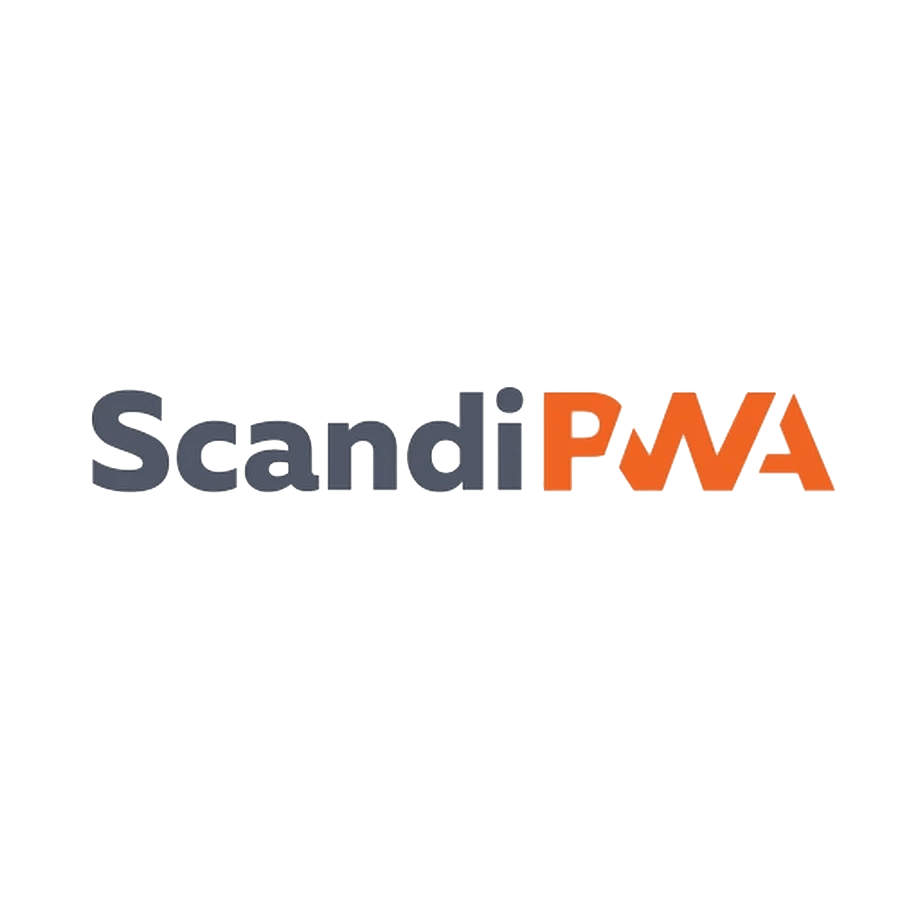 After the release of the Magento 2.3 version, the PWA studio became available. It includes features such as GraphQL which is quite helpful for creating a PWA. It is a theme for Magento 2 whose purpose is to load a React application which serves as a M2 storefront. It essentially means that you can use Magento 2 core functionality with a PWA application without involving any middleware such as Node.js servers.
How ScandiPWA is managing the pain-points of a developer?
Generally, while working with a new technology or new tools, even the setup takes too much time. But ScandiPWA has covered almost everything. There are Varnish and Redis, and instant builds with Webpack are in a containerized environment.
After going through the tutorials you will take just 15 minutes to an hour to install the theme locally. Also, you will get the same environment as on Cloud. Developers are more comfortable working on a predictable and constant environment. It saves time and efforts.
Pre-configured architecture:
The cloud-hosted server is configured and optimized. The deployment process is also automated so on requesting a ScandiPWA Cloud instance, you will get a pre-configured and optimized instance. There is no need to setup Varnish, Redis, SSR, or Magento. All things are pre-installed and completely configured.
To get a ScandiPWA Cloud instance, you just need to fill a form which will take only 10 minutes. After this, you can create your own PWA projects and sell products. There are customizations options from the admin panel or you can also access the source code. There are automated database backups, log management, and data visualization with Kibana, performance with Grafana.
It also comes with scalability i.e. real-time adaptation as per the requirements. So there would be no issue when there is a spike in traffic, and when there is minimum traffic such as in the night, the number of resources will get reduced to optimize the costs.
It is quite easier on ScandiPWA to deploy your own code. They provide a consistent and predictable environment for developers. The store owners, developers or agencies have complete access to their source code. You can also connect your GitHub repository with the ScandiPWA instance for accessing ScandiPWA and Magento source code.
Benefits of ScandiPWA for your Magento Store:
1. Get All PWA Features out-of-the-box:
You can enhance your existing Magento store using the ScandiPWA. It provides all the benefits of the PWA technology such as:
       

Homescreen App Save

       

Instant Loading Time

       

Offline Mode

       

Push Notifications

       

Ability to deploy the store into App Store

       

Feel like of native applications

       

And many other features
2. Efficient way of developing PWA for your Magento Store:
As we have already mentioned, you can get the PWA of your Magento store on the same infrastructure. There is a conventional theme that sits on the top of your Magento and connects with the same database and backend which you are already using. There is no need for any other middleware or database.
There are highly exciting features of the ScandiPWA such as:
       

Product Discovery

       

Promotions

       

Multi-store setup

       

Multiple languages

       

Multi Currencies

       

Domains

       

Custom Prices

       

Customer Registration

       

Address Book

       

Customer Group Pricing

       

Taxes

       

301 redirects

       

Configurable grouped and virtual products

       

Elastic Search

       

SEO settings

       

Shipping methods like FedEx and UPS

       

Payment methods like Paypal, Braintree, and Stripe
And much more.
The synchronization between the user & database is due to a smart caching layer.  It delivers the content to the customers in milliseconds. Generally, there is a no-SQL database in PWAs for serving the content faster. But it brings the risk of out of sync between order processing database and customer-facing database. ScandiPWA reads and writes directly to Magento ensuring backend operations, reporting, and stay intact.
There is GraphQL theme used in the ScandiPWA for single data exchange interface. It is introduced by Magento for extending and optimizing. There are PWA solutions with multiple data exchange channels, using GraphQL, REST API, and proprietary data requests to No SQL database.
Extension Mechanism in ScandiPWA:
In the ScandiPWA 3rd version, you get the option of enhancing your PWA's features and functionality using the frontend plugins or reusable extensions. These reusable extensions, once created, can be used in any project using ScandiPWA v3.
File Structure of Extension:
The extension is a Magento 2 composer package with an additional directory – scandipwa. This directory contains the frontend-related functionality regarding ScandiPWA. There can be other directories too for implementing backend functionality.
Here's the marketplace for ScandiPWA extensions https://marketplace.scandipwa.com/
Here are a few examples of the ScandiPWA stores:
This is an e-commerce site based in Croatia. It is a clothing e-commerce site for Women, Men, and Children. A customer can find a huge range of dresses, attires, and clothing.
Technodom, as the name suggests is an e-commerce site related to technical products or electronics. It is a Russia-based e-commerce site where you can find electronic items of every range.
This is a London-based home-decor ecommerce website where you can find products for decorating your home, kitchen utensils, bed & bath items, gifts, and a lot of other items.
If you love reading then you must explore this e-commerce. On Buki.lv you can find books of every genre and of very popular writers. It has the widest assortment of books published in Latvia.
If you are looking for an e-commerce site where you can find every type of sports product then you must checkout sportland. It is a land of sports types of equipment such as shoes, fitness items, and much more.
Are you a gourmet with a very fine taste of wine? Then you must checkout DiVino, an ultimate store for a wide range of wines. Whether you need to gift someone, or are looking for a fine taste, you can find good wine here.
ScandiPWA is a great solution for PWA if you are owning a Magento store. It is developer-friendly, feature-rich, and has many other benefits. At Ceymox technologies, the best Magento development company in India, we are having expertise in developing PWA using the ScandiPWA. If you don't own a Magento store, then it is the right time to go online, and we will definitely help you in that. Let us know your requirements.
About Author